CaseⅠ:
Intelligent Manufacturing Concept: Made in China 2025 entering college
In 2015 Yuhuan won the "intelligent manufacturer" project bidding of Hunan Mechanical and Electrical Polytechnic. This project aims to build intelligent unmanned factory training talents for vocational colleges.

The intelligent manufacturer is consisted of three parts including intelligent manufacturing, intelligent logistic and intelligent warehousing to teach advanced philosophy and technology for students and trainees."Intelligent manufacturing" is full automation processing including feeding,processing,detection and packaging to stimulating a real factory."Intelligent logistic" is to realize automatic distributing in factory by AGV and other manipulators and transportation devices."Intelligent warehousing" is building a warehouse and system for automatic warehousing and making statistics of each product.
Highlights
1.With Made in China 2025 idea Yuhuan is building a intelligent manufacture both for studying research and actual manufacturing business.
2.Based on Internet of Things, the factory manager can supervise all the conditions about equipments, schedules, orders etc.
3.Yuhuan have developed a remote control mobile APP for placing order or factory real-time checking.
4.All the products for process can be customized to matching different requires.

Case Ⅱ:
Automatic Packaging Linkage Production Line
Wufeng Lihong Food Co.,Ltd (subsidiary of China Resources Ng Fung Limited),integrated with producing,sales and research of flavoring resource, seasoning oil, blend oil, one of the most important forestry enterprise in China.
We Yuhuan supplied a unit equipment named YNKZFM500 Automatic Packaging Linkage Production Line, which is consisted of automatic case unpacker, picking machine, case sealer, hacking machine and connection device. It highly improved productiveness and reduce labor intensity and cost.
This project can be used widely in machinery process industry, pharmaceutical, packaging, IT electronics, plastic molding industry etc. Because of automation, it also suitable for chemistry harm environmental industry.。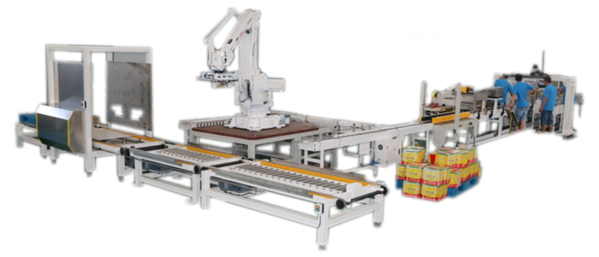 Production site map

Highlights
1.Creative cross rail transportation of special shaped glass bottle.
2.Creative multi matrix and multi specification arrangement technology of special shaped glass bottle.
3.Original creative cam mechanism bottle grabbing machine.
4.Original creative perpendicular rotation double cylinder mechanism, solving baseboard separation and laying problems.
5.Creative friction wheel timing control
6.Optimize processing procedure to improve effieciency